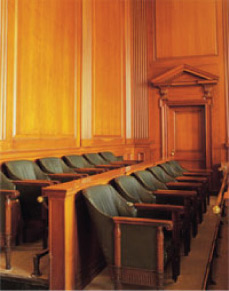 The San Francisco-based Sturdevant Law Firm, founded by James C. Sturdevant in 1980, is a nationally recognized, award winning firm representing plaintiffs in class action and individual cases.  Our firm specializes in consumer protection, civil rights, unlawful and unfair business practices, unfair debt collection practices, employment discrimination, disability discrimination, and wage and hour violations.
The Sturdevant Law Firm (see our firm description)  is proud of its history of successes on behalf of our clients.  The firm's national reputation is based upon our precedent-setting victories and published court decisions in consumer protection, unfair business practices, and civil rights cases, such as Hood v. Santa Barbara Bank and Trust, Californians for Disability Rights v. Mervyn's, Badie v. Bank of America, Ting v. AT&T, Yu v. Signet Bank, Virginia / Capital One Bank and Miller v. Bank of America.  The firm is the recipient of numerous awards for its legal work on behalf of consumers and its commitment to equal justice.
Virtually all of our cases are retained on a contingency fee basis or the likelihood of obtaining a court-ordered attorneys fee award from the defendant upon prevailing in the case.
We are committed to achieving justice on behalf of aggrieved consumers, employees and victims of discrimination or unfair and unlawful corporate conduct. We work to achieve results for our clients that focus both on compensation for the harm suffered as well as making changes to business practices and policies that to prevent future abuses.